One of the great things about Georgia is the modern and innovative architecture. There was one place I wanted to capture, the Emergency Services Centre, also known as the 112 Building. (112 is the 000 of Georgia.)
As with any travel in Georgia, anything outside a simple metro ride is never easy.
The Metro ride from Rustaveli Metro Station to Station Square was simple, but Station Square, being a hub with several entrances, getting the right one to exit the building to the right place is a fun thing. Next is finding where the bus stop is for the required bus.
Station Square is also a hub for mini-buses and city buses but there is little apparent logic so after 40 minutes circulating and asking where bus 65 departed, with a language or lack of interest barrier I finally found it.
And I waited, and waited, and waited. That evening was a concert so I felt under a little time pressure so I grabbed a Lexus taxi that had circulated three times already and offered 10 Lari to take me there (more than he would have asked…but it was a newish Lexus 🙂 .
After the driver not understanding what the 112 building was, I quickly pulled up a pic of it on my phone and a smile a nod and a quick U-turn and we were on out way. Goodness knows where we were going before that!
He took be to the top entry, which is a good thing . The building itself is a flying saucer – like structure perched on a slope overlooking the city.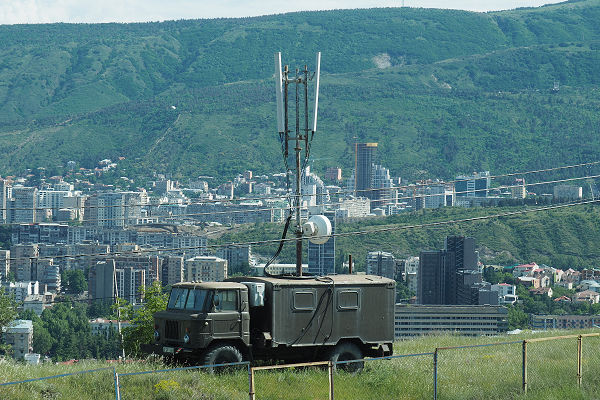 I was able to get a few good shots as I walking around the side and to the lower car park where I was about to get a shot of the zigzag stairs when I heard a load and gruff ARA! ARA! (NO! NO!) from an older police officer who formed part of the guard detail. Pointing at the camera he gave an extended arms cross indicating not allowed (or handcuffs?) and ushered me away.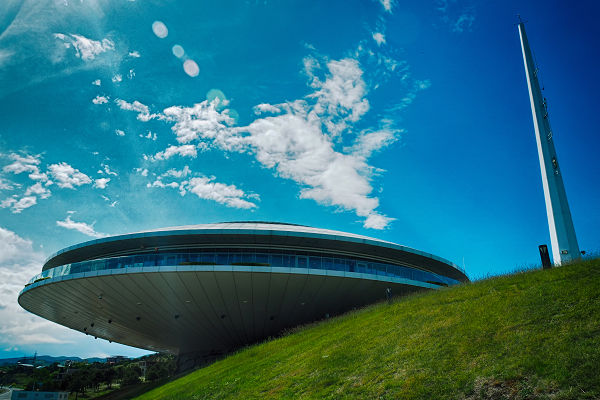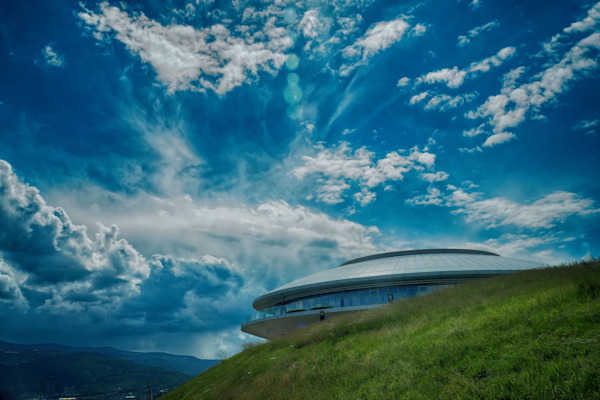 I wandered down the road aways before taking a few more shots from far enough away that they might not see me (yeah right!).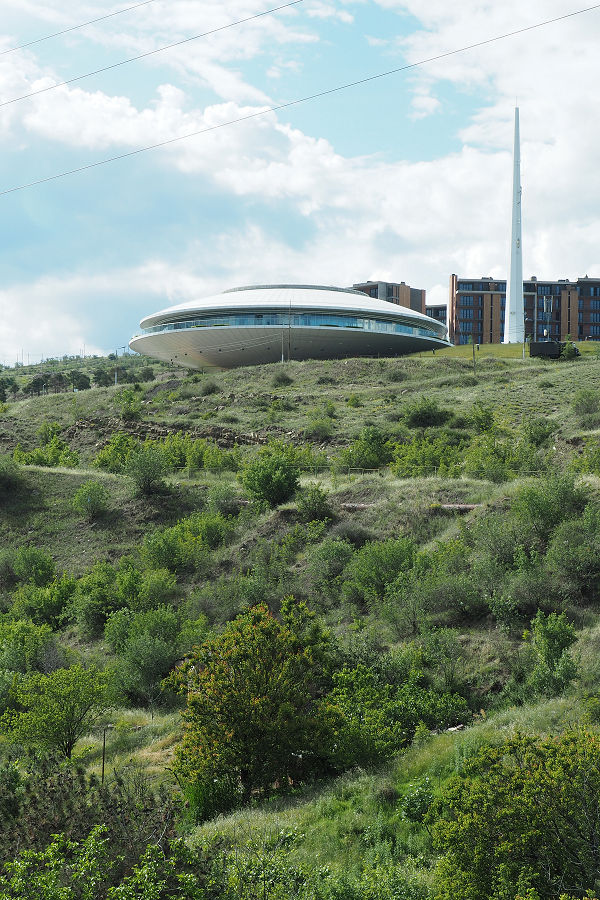 Then onto Google Maps to work out my exit route, which ended up being a dodgy dirt road leading off into some grassed area, passing by some nice old church gates before heading off down a hill.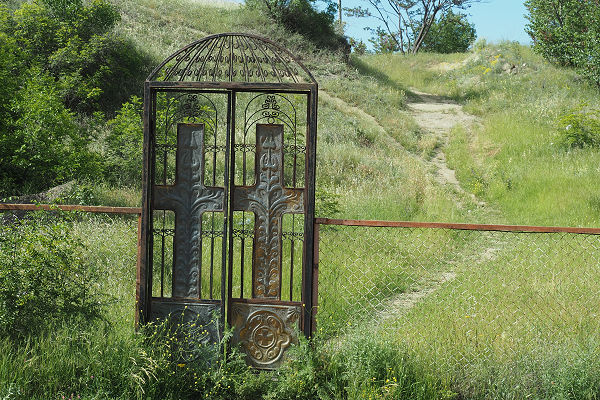 After a few wrong turns and dead ends I worked out to follow the excuse for street light poles and the dirt turned to a rough concrete surface, a real need as this must be one of the steepest streets in Tbilisi, if not Georgia, if not the world!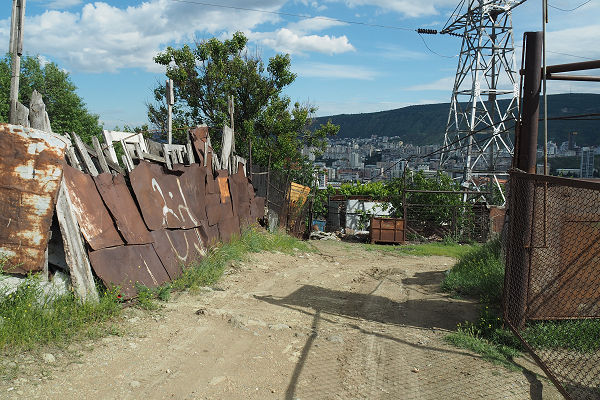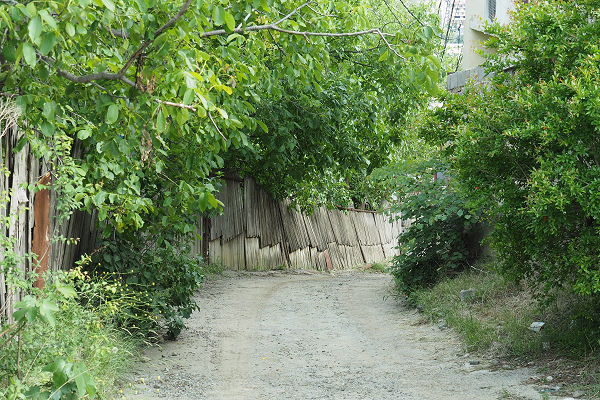 I indicated as much to two women chatting, one who held up her bags of shopping and inclined her head as if to say "I have to walk up there all the time!"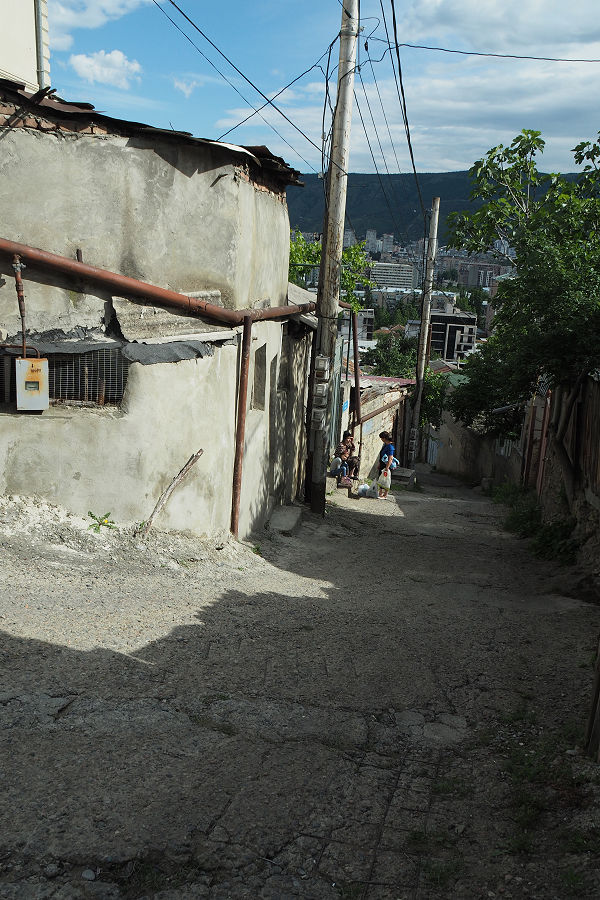 Thank goodness I had not caught the bus as originally planned and had to go walk up.
Finally I found my way to the university district (a different feel with lots of young people) and salvation – the Metro!