With so many rivers one would imagine Georgia is overflowing with waterfalls…and perhaps it is but a relatively few are publicised as tour destinations. Lagodekhe Nature Reserve's Great Waterfall is one of these. Rather than an organised tour destination, it is up to the independent traveler to make their own way there.
As with many things in Georgia transport is a mite confusing and after some enquiry through the tourist office I learned that the mini bus to Lagadokhe left from near Isani metro station.
Nothing is signposted and even though the mini bus departures area is in no way as frenetic as at Didube station, it still took a little investigation to find the ლაგოდეხი bus.
After a short wait till the appointed departure time of 8am, (unlike some mini buses that will only leave when there are enough passengers, no matter how long that takes – once I waited 4 hours) we were away.
While it is a small country and distances seem short, travel always takes a long time, in between stopping to let passengers on and off, roads that are often less than ideal and the ubiquitous cattle and other farm animals wandering the highways with total disregard for traffic. So the10 GEL (about $6.50) fare 150km trip to Lagodekhe took almost three hours.
I grabbed a taxi to head to the park head office and was told by the only English speaking person that I needed to catch a taxi to the other entry. They arranged the taxi and 15GEL (A$9) later found myself at the entry… well a path leading into the forest near a solid metal gate near a building that I guess at times serves as the park office.
I was told to follow the marked path which was successful for the first few hundred metres and through a lovely forest with birds singing until a maze of small shallow streams left me with half hour of trying different options till I finally progressed enough to make out a trodden pathway heading into some thick bushes.
Finally the path markings began to appear, faded orange paint on rocks. This allowed me to pick up the pace as the round trip was said to take 5-6 hours for the 4.5km each way trip.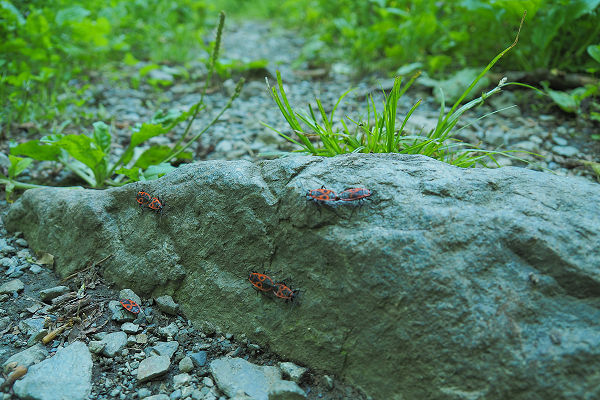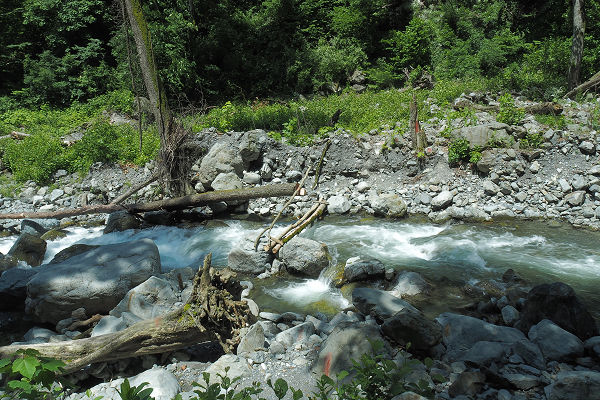 The path in some places was clear and at others it laboured its way (as I did) over large river stones and others through thick bushes that had water flowing down as the snow melt was still under way.
The green hills rose steeply on either side of the valley and on a half-dozen occasions the path crossed the rapidly flowing stream, with the aid of temporary bridges constructed from two logs side by side with a flimsy hand rail for balance. Well most. One was a single large log and another two very thin frail looking logs that crossed a wider, especially turbulent section of the river.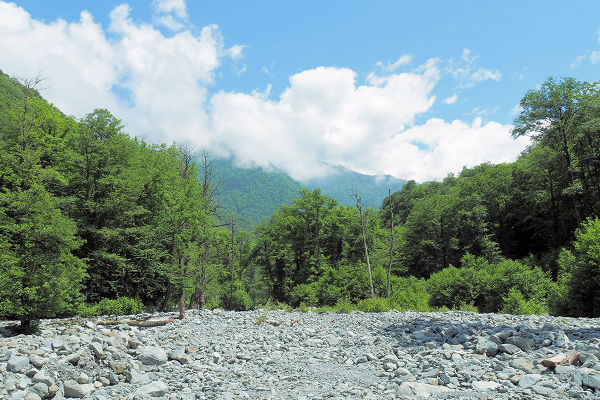 I rested here, unwilling to cross on my own as a fall into the maelstrom of water could have ended badly. Fortunately two young Germans arrived and it was onward to what was the most difficult part of the walk, with plenty of clambering up rocky outcrops and making our way along narrow ledges.
A few final cleverly constructed ladder bridges and we arrived at the falls. A long walk that had me feeling quite exhausted, but worth it.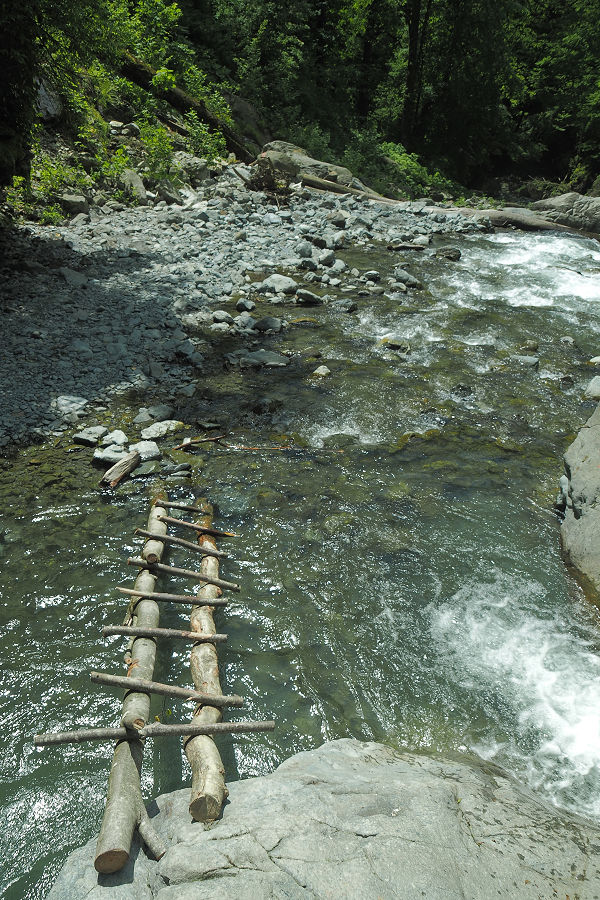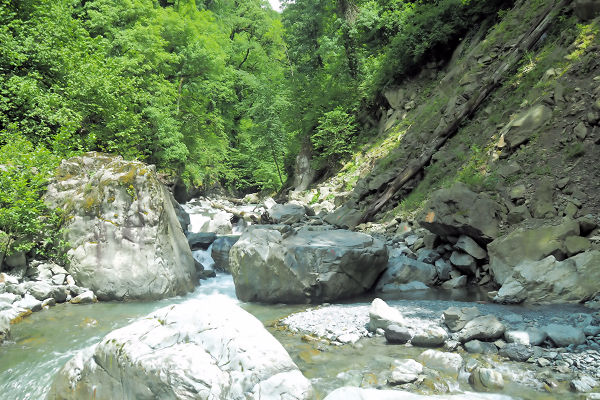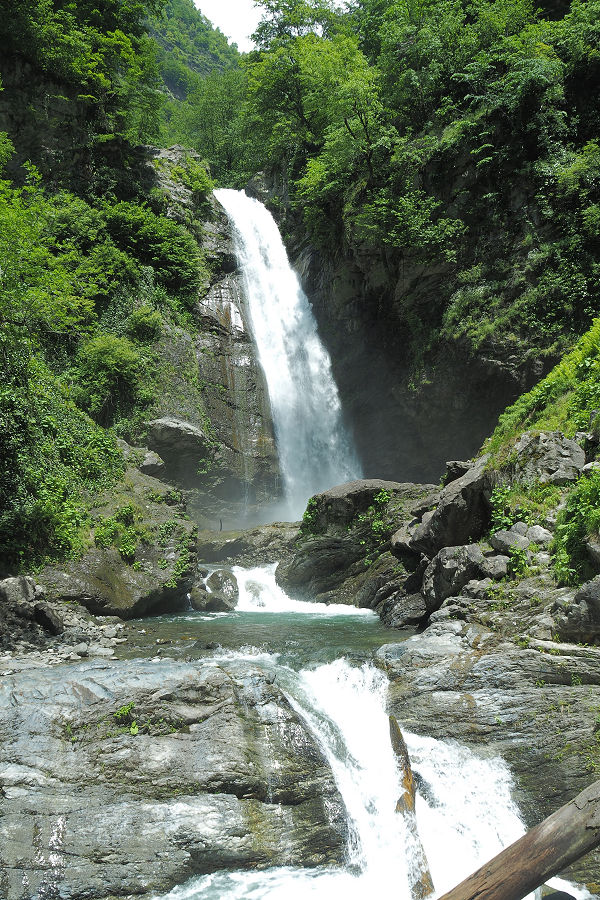 I left the Germans to enjoy the water with the expectation that they would soon catch me on the return leg and headed off back.
Within one hundred metres on a narrow and high part of the track running above a small rocky beach I found my feet suddenly out from under me and I was sliding down a near vertical slope grabbing frantically at the undergrowth to try to stop my descent.
Unsuccessful, I was airborne momentarily before hitting a large smooth rock to made the final slide to the riverbank. I was luck to land on my feet in a heavy landing that saw my finally half tumble into the river.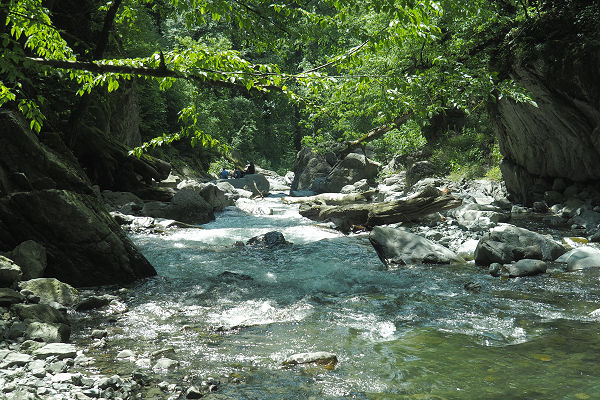 Fortunately along this beach was where the track eventually descended an a much safer manner….and I was able to rejoin the path without having to scramble back up the cliff.
The trip back was slow and with a limp….I needed to make the last mini bus so waiting for the Germans at the dangerous crossing was not a real option and despite passing a group heading to the falls at this time of the afternoon i was not confident of another group coming along…. after all, I had done it once right? Luckily I did it twice and not far from the park entry the Germans caught up with me.
The mini bus ride back to Tbilisi was one that makes mini bus rides famous. Slow and with absolutely no legroom, despite having no-one sitting next to me it was still impossible to get my legs behind the sits in any manner other than twisted sideways.
Basck in Tbilisi. as usual finding the entry to the Metro was hard and it was with relief that I took the 130 second escalator ride down to the platform, and on reaching my station and another 130 second ascent it was only a 400 metre walk up the hill to the comfort of the Zemeli Guest House.